Visit us Thursday to Sunday, from 12 noon to 4 p.m. We are in the College Mall, 3038 East Third Street, Bloomington, Indiana, diagonally across from Zales.
Click here to meet some of our fiber artists. And be sure to visit us at the store. Our clerks are all artists showing and selling their work at the store.
Be inspired! Click for an exclusive knitting pattern developed for our local yarns.
Not a guild member but still want to get Fiber Arts Store news delivered to your inbox? Sign up for our Fiber Arts Store email list.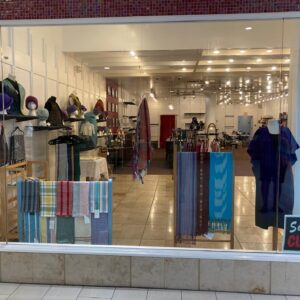 Looking for weaving yarn? Buy cones at just 25 cents an ounce! A limited supply of commercial knitting yarns, notions and equipment are also available.
Connect with us on Facebook to see more pictures and help spread the word!