Welcome to the
Bloomington Spinners and Weavers
Fiber Arts Guild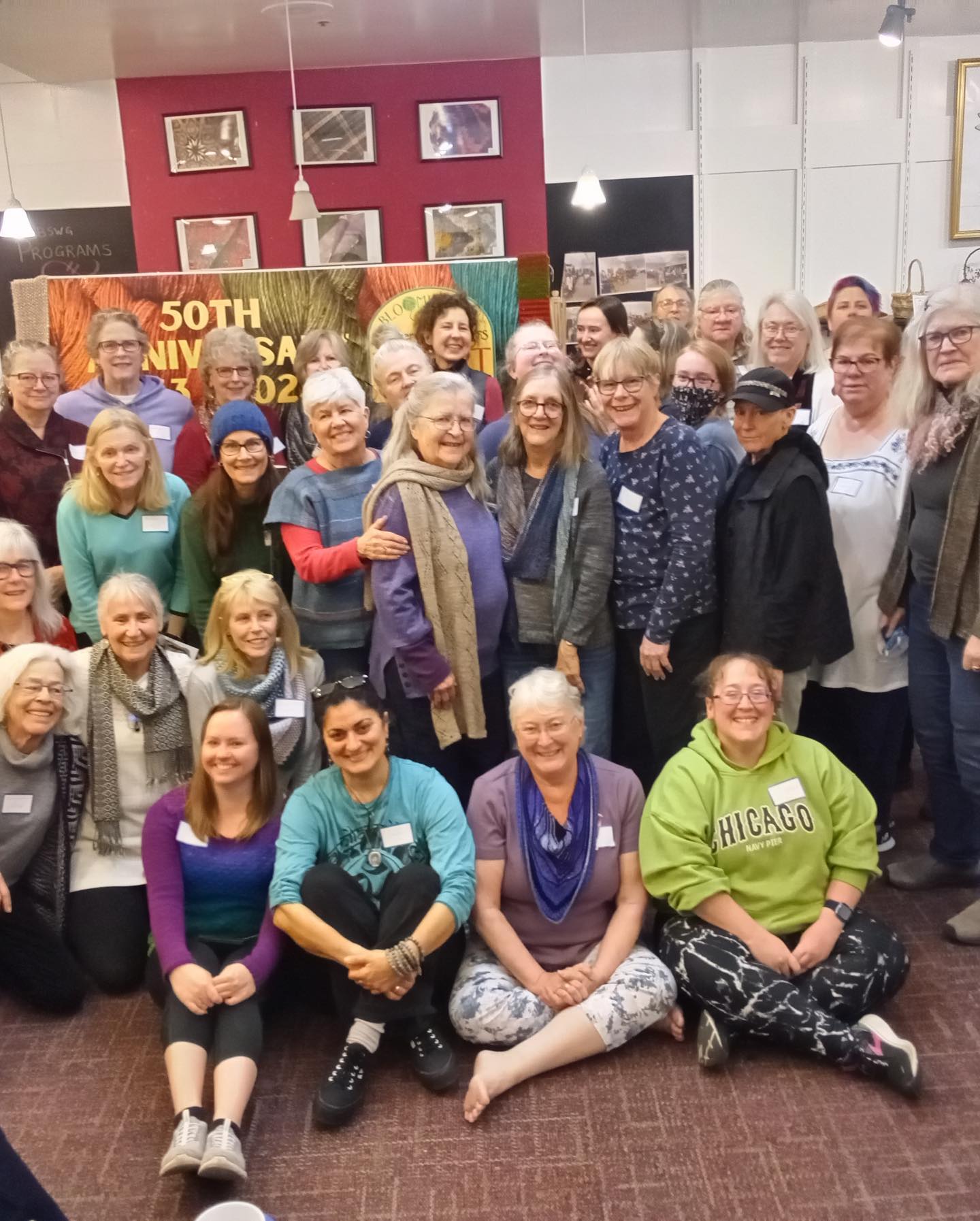 Our mission is to promote cooperation and interchange of ideas among those interested in the fiber arts; to stimulate public appreciation for the value of the fiber arts; and to provide instruction for members in the methods and techniques of fiber arts.
We celebrate our 50th anniversary in 2023!
At 140 members and counting, this year promises to be our best ever.
Join us as we celebrate all the wonders of fiber arts.
Fiber Arts Center
Our Guild's home and headquarters is our Fiber Arts Center, located in the College Mall at 3038 East Third Street in Bloomington, Indiana. Enter the mall through Target, turn to the left, and you'll find us on the left just beyond American Eagles Outfitters.
In our Fiber Arts Center, we offer study groups, classes, and workshops on a wide variety of topics in spinning, weaving, and related fiber arts. We also have our Fiber Arts Gallery featuring members' fiber arts creations for sale. In addition, our Center houses our library and fiber arts equipment for member use and rental. Our guild meetings are held in the Fiber Arts Center as well.
Fiber Arts Study Groups, Classes and Workshops
The most important purpose of our Fiber Arts Center is to host study groups, classes, and workshops.
Study groups focus on various aspects of spinning, weaving, and related fiber arts. We currently have a Monday all-fiber-arts group and a Wednesday knitting group. Our study groups are free and open to the public.
Fiber arts classes are always popular in our Fiber Arts Center! These focus on a particular skill, such as beginning weaving to create a chenille scarf, beginning rigid heddle weaving, or knitting with beads.
Fiber arts workshops give us a one or two day opportunity to study a topic in-depth with a local or regional expert fiber artist. Our fall workshop will be taught by Barb Gallagher of Weaver's Loft. We will learn about blocks in weaving and how this applies to the summer and winter weave structure. Details and pricing here.
See our Calendar for upcoming classes, and please contact us with requests!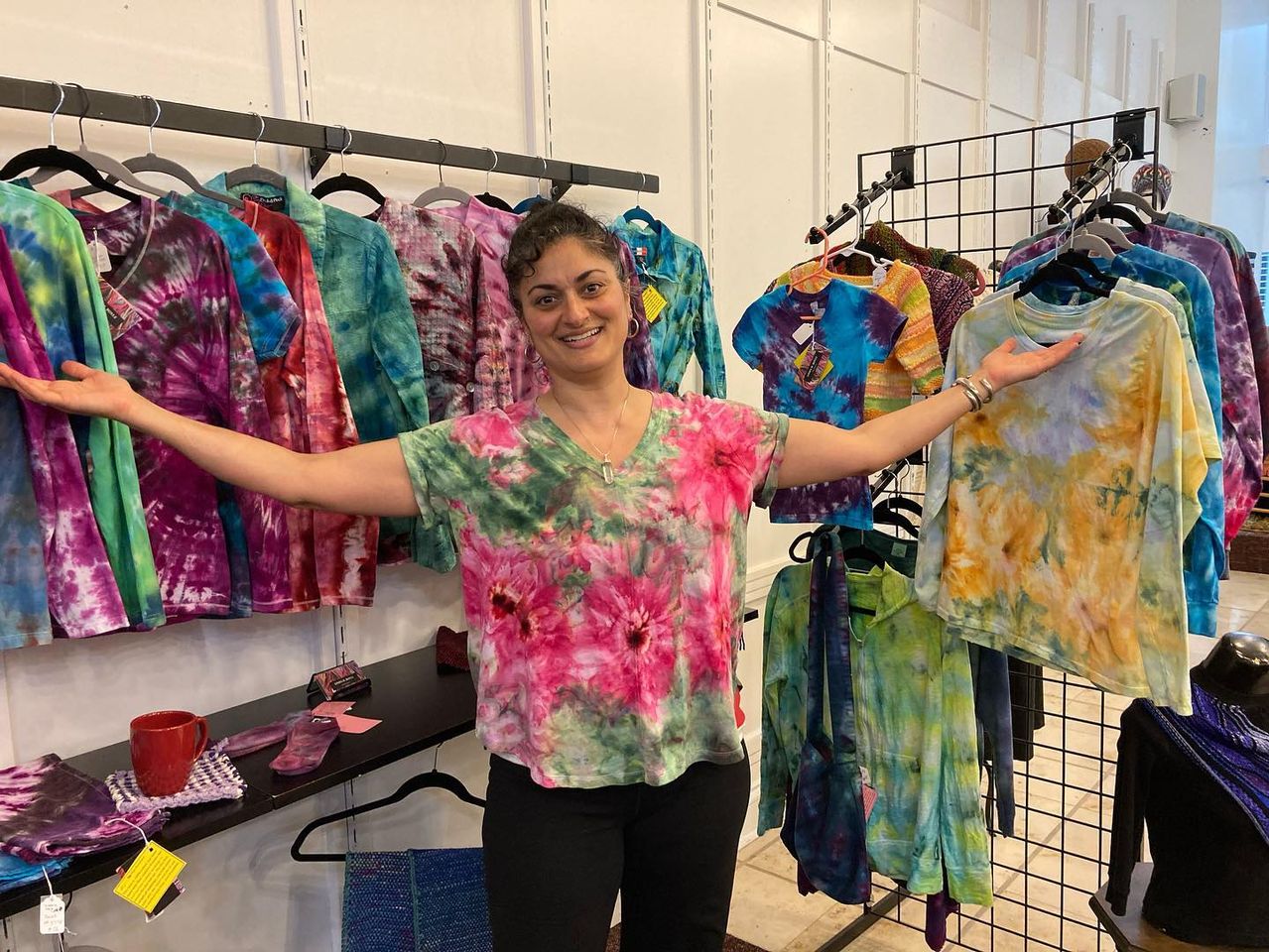 Fiber Arts Gallery
As part of our mission to spread the love of fiber arts and to support our member-makers, our Fiber Arts Gallery serves as a showplace of our members' fiber arts creations that are available for purchase through our Guild. Our gallery is open from Thursday through Sunday, 12 noon to 4 pm, for you to shop our local, unique, and handmade fiber arts.
During the holiday season, we have extended hours from 12 noon to 6 pm, Thursday through Sunday. And we will be open on Black Friday from 10 am to 8 pm. Come in and shop local, from local fiber artists, for all your holiday gift-giving.
Monthly Meetings
Full Guild meetings are held on the third Monday of each month. We have a program on a fiber arts topic as well as our business meeting. Monthly Guild meetings are free and open to the public.
Organizational Guild meetings are open to Guild members and serve essential functions to ensure that our Guild runs smoothly.

Fiber Arts Show and Sale
We share our interest and appreciation for fiber arts with the community through public demonstrations, outreach, and our annual Fiber Arts Show and Sale.